Fried eggs and bacon are a classic breakfast in some parts of the world. So today, I bring a delicious and unique breakfast recipe: fried eggs and bacon macarons.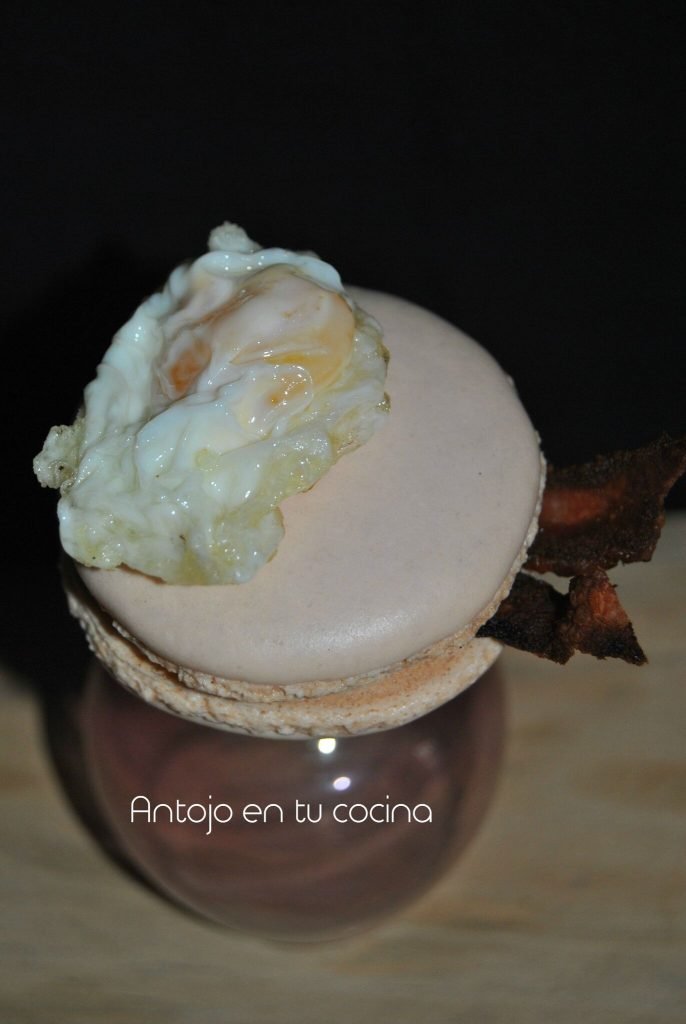 New
recipe for make macarons
, this recipe is of Paco Torreblanca who uses
Italian meringue
. This recipe save us a lot of time, because the macarons dry in less than 30 minutes. I think from now on I will always use this recipe.
In addition, the combination of textures and flavors is wonderful, you'll taste all the flavors in every bite.
Fried egg explode in your mouth
! The
fried bacon
is a
crunchy filling
, which combines perfectly with the creamy cheese and the
fry quail egg
.
Ingredients for 20 Fried eggs with bacon macarons:
To make the marzipan:
125 g almond meal or ground almonds
125 g of powdered sugar
45 g egg whites at room temperature
To make the Italian meringue:
125 g white sugar
50 g water
47 g egg whites at room temperature
2 drops of pink food dye paste
To fill the macarons:
Cream cheese
20 quail eggs
5-6 strips of bacon
How to make Fried eggs with bacon macarons:
Making the macaron shells:
Marzipan:
To make the marzipan grind ground almonds or almond flour with the icing sugar until have a very fine powder. Sift and mix with 45 grams of egg whites using a silicone spatula.
Italian meringue:
Whisk the egg whites until stiff. Meanwhile, in a saucepan over medium heat, mix the water with the sugar, until the thermometer is at 120ºC.
At this time, and whisking the egg whites, pour the hot sugar over the meringue in a steady stream. Whisk until meringue has cooled. Add the drops of food coloring and mix well.
The macaronage:
Add 1/3 of the meringue to marzipan and mix well with a silicone spatula, from the bottom of bowl upward. When we have a well-combined mixture, add the remaining meringue and mix with the same technique, now with energetic movements, until batter flows like lava.
Macarons shells:
Hirts, cover a baking sheet with baking paper.
Then, fill a pastry bag with the batter and pipe batter into a round, then swirl tip off to one side. There must have all the same big size (fried quail eggs should not cover all the macaron).
Give a blow with the tray on the kitchen countertop to remove the air bubbles. Leave at room temperature about 20-30 minutes until there are dried completely.
Bake in a preheated 150 °C oven for 12-15 minutes. Remove from the oven and let cool completely in the same tray before unstick the paper.
Finally put it in an airtight container and store 24h in the refrigerator before filling.
Macarons filling:
Fry the bacon until very crispy. Place it on absorbent kitchen paper to remove excess oil. Let cool completely and cut into large pieces.
Fry the quail eggs with a pinch of salt over the yolk. Place it on absorbent kitchen paper to remove excess of oil.
Fill the macarons with a teaspoon of cream cheese and a piece of bacon. Crown it with a fried quail egg and enjoy the burst of flavor and textures in our mouth.
Isn't yummy?
Taste it and share your foodie experience!